Three Plane Class – August 2016
Make a Smoother, Jack, and Jointer with me in beautiful Asheville, NC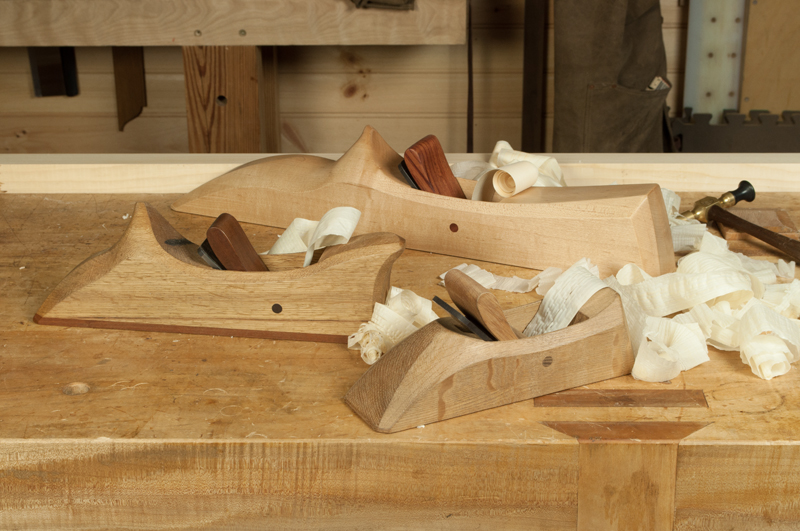 The August Three Plane Class is now full! I will schedule another for later in the year, or next spring.
I first mentioned the possibility of having this class last year, but I have wanted to offer it even longer than that. I am really excited to finally get it on the schedule. I think this will be a really fantastic time that will fully immerse you in plane making and shaping wood with rasps, two of my favorite parts of woodworking.
During this six day class in my shop here in Asheville, NC, you will make a Smoothing Plane, a 12″ Wave Grip Jack Plane with an exotic wood sole, and a 22″ Jointer. This is easily the most intensive plane making and shaping course I offer. In addition to a great set of wooden bench planes, you will leave with extensive knowledge on sharpening plane irons, using rasps to shape wood, and proper plane set up, not to mention bandsaw use, dimensioning stock, material selection, and more. There is only room for 3 students in my shop at one time, so this will offer plenty of focused instruction throughout the class. This also means that it could fill up fast, so reserve your spot as soon as possible
Lunch will be provided each day. There are easily accessible hotels in every direction and even a campground, all within 10-15 minutes driving. Asheville has amazing restaurants and breweries to check out in the evenings. Also, if there is time in the week, we will check out one or two locations of high interest to woodworkers that we have in the area (Grove Park Inn, other shops, etc). On top of it all, we have the beautiful Appalachian Mountains! I truly believe that Asheville is a perfect location for a woodworking vacation.
This class will start on August 15 and run through August 20. The cost is $1200, which includes materials and lunch each day. Click here to reserve your spot with a 50% deposit and get it put on your calendar. I am really looking forward to this class!
---
Online Beginning Plane Making Classes Are Back
I have had people asking for awhile now when I was going to schedule some online plane making classes again. Finally, I have done so. The first is taking place in late July through early August. The second will be in October. These classes happen using video conferencing where I walk you through the steps, and then in the intervening week between each class, you can do the steps yourself in your own shop.
Click here to sign up for either one of these classes.
---
Wave Grip Jointer Plane Kits
Available Soon!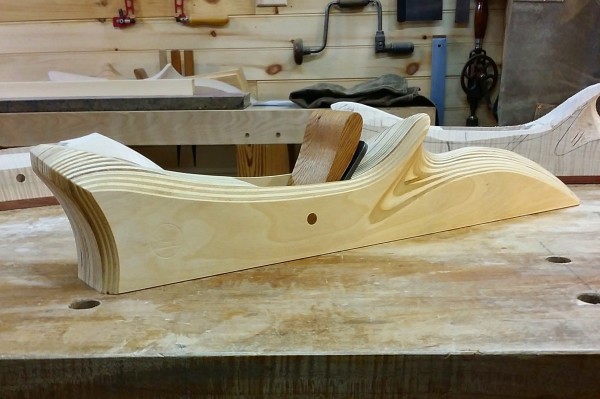 Last year, I made the 22″ Wave Grip Jointer in the picture above out of Baltic Birch plywood. It was essentially just an experiment to see how it would work and, well, it worked splendidly! I have not had to true the sole once since the initial flattening. It is so incredibly stable, and really looks much better than I had thought it would.
I have had this plane at numerous shows and hand tool events and the consensus seems to agree with me that it is a great jointer.
I have wondered since how to incorporate it into what I offer, and I believe I have found the perfect solution: 22″ Wave Grip Jointer Plane Kits. The kit will include the Baltic Birch Plywood, pre rough shaped by CNC, which will then be glued up. Registration dowels will aide in keeping everything perfectly aligned. It will also include the blade and material for the wedge and crosspin.
The blade will be 1 7/8″ wide, and made by Hock Tools. The wedge and crosspin material will be determined. The shape off the CNC will be rough, which will allow the maker to finish the shaping of the grips to fit their own hands. I will be putting together a video on the shaping process to aide in that task.
The prototypes are currently being put together with a goal to start taking preorders within a couple of weeks. They should be ready to ship by the Lie-Nielsen 35th Anniversary event, July 8-9, 2016. The price will be between $200-$300 each. Pre-orders will be discounted a yet to be determined amount. (To put that into perspective, my 22″ Wave Grip Jointers start at $895). To be informed when the kit is ready for pre-order, subscribe with your email address below.